Step 5: Create and launch a Facebook campaign
Now we'll put it all together and create a new Facebook campaign.
Note: You will only be able to create campaigns once your website has been approved and you have cookied 250 users in the last 7 days. Your site will be approved or rejected within one business day from when you created an account.
Click Launch New Campaign, then Facebook Campaign.
Select your ads by clicking add next to the ads you wish to use.
We recommend using at least 4-5 ads.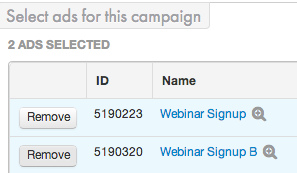 Target an Audience.
Choose IGNORE to ignore an Audience completely.
Choose EXCLUDE to specifically not serve ads to users in that Audience.
Give the campaign a name and weekly budget.
Select a conversion goal.
Enter your credit card information and press the green button to launch the campaign.
You're all done! You can view your campaign stats on your Perfect Audience Dashboard.