What is Twitter Retargeting and how does it work?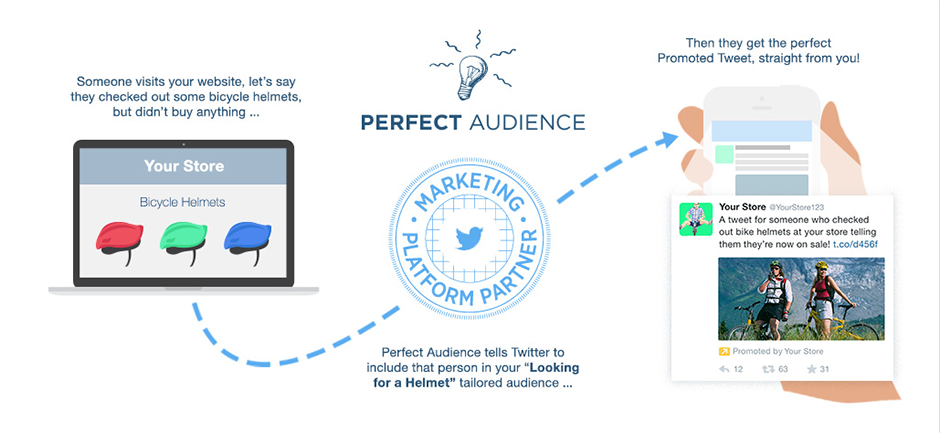 With Perfect Audience's Twitter Retargeting add-on, marketers can reach lost web visitors on Twitter's web site and mobile apps using the same Perfect Audience retargeting lists they use for their web and Facebook retargeting. For information regarding eligibility, please see our page about who can use Twitter retargeting.

Why is Twitter Retargeting awesome for my marketing?

1. Use the Retargeting Audiences you already know and trust

As a performance-driven marketer, you've invested time into crafting and shaping your retargeting lists just the way you want them.  You've got your converted customer Audience, you've got your Audience of people who came from ad campaigns, you've got Audinces for people who visited specific sections of your site...

You've got these Audiences and you want to use them in your Twitter advertising.  And now you can!

2. Expand your retargeting across mobile and the web

Twitter retargeting uses cookies placed on the web to let you retarget across Twitter web and mobile products.  How?

When you activate Twitter Retargeting in Perfect Audience, we begin sharing your retargeting Audiences with Twitter once a day at 4pm PST.  Twitter will then process the data some time after they receive it. Twitter captures the data and translates it into actual Twitter user accounts which you can then target.  Note: This is an anonymous process.  Twitter does not share the actual usernames of the people they find in your retargeting lists.

Once Twitter has made this connection, translating your Retargeting Audiences into Twitter usernames, you're able to target these users across ALL of Twitter's products, both on the desktop and mobile apps.  This gives you true, high-fidelity cross-device retargeting.

3. Take advantage of Twitter's sponsored Tweet and card ad formats

Once your data is available in your Twitter ad dashboard, you can take advantage of the full range of Twitter ad formats including sponsored Tweets and Lead Generation cards.  This will allow for in-ad conversions which you can track in your Twitter Ads dashboard.

How is this different from Web Retargeting or Facebook Retargeting?

1. Twitter retargeting is managed in your Twitter ads dashboard, NOT in your Perfect Audience dashboard

After you connect your Twitter account to your Perfect Audience account and we begin sending your data to Twitter, the actual creation, management, and optimization of your campaigns will all occur within Twitter's ad dashboard. 

2. Twitter retargeting has just one monthly cost while Web and Facebook retargeting have their costs rolled into the media cost

Twitter retargeting has a flat monthly cost whereas we charge a % of spend for Facebook and web retargeting.  During the beta and early rollout, we are keeping that price at just $50/month to make it easy for advertisers to get a taste for how this works and to get feedback.  We will roll out more nuanced pricing this spring based on customer feedback.